SkyHistory Download and Install

Download the latest version (version 1.2.3, November 23, 2011, 2.0 MB).
Next up, launch the setup file and follow the steps suggested by the SkyHistory Setup Wizard: accept the license agreement terms and conditions, select the location for the installation file and start menu folder and check the additional icons, if necessary:
The SkyHistory application will start automatically after the installation procedure is over.
The app will start searching for Skype to attach (please wait as it can take several seconds).
Once SkyHistory is attached to Skype, will see application icon in the tray menu

.
The application is ready for configuring and use after the SkyHistory setup procedure is completed.
By default the database with the chat history and the configuration files are stored in the current system and Skype user's "Application Data" folder ("%USERPROFILE%\Application Data\Skype\%SKYPEACCOUNT%\SkyHistory\").
After you have installed and launched SkyHistory, you will see the access Skype dialogue:

Click Allow access to set the rule for SkyHistory.
If you accidentally clicked Deny access, the situation can be easily improved by moving to Skype Tools -> Options -> Advanced -> Manage other programs' access to Skype and allow SkyHistory access to Skype. Follow the steps illustrated below:
Hit the Manage other programs' access to Skype: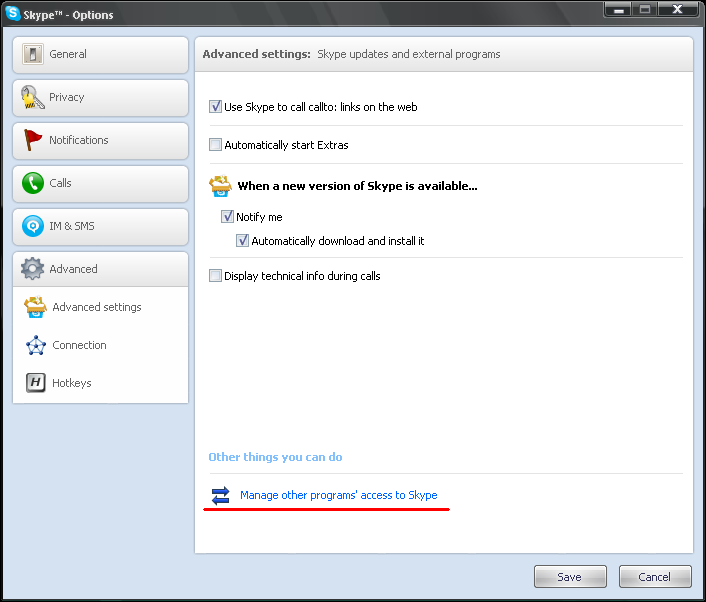 You will see the Manage API Access Control screen showing the status of the SkyHistory app; click Change.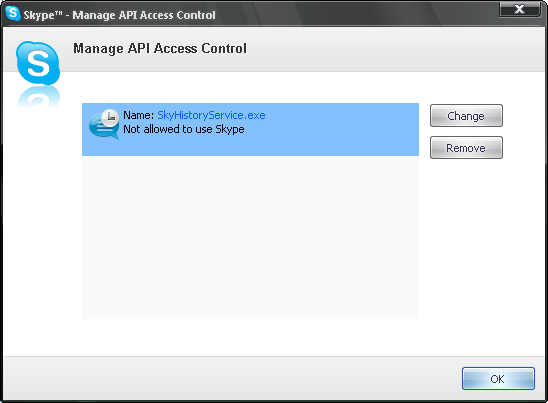 Mark Allow this program to use Skype and press OK: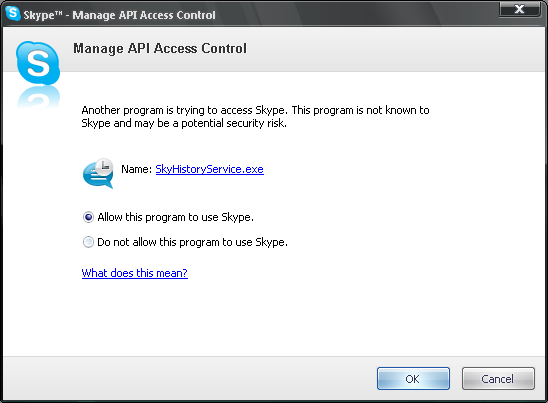 Congratulations! You can use SkyHistory now!
Support Email: skyhistory@scand.com