SkyHistory
Store and manage Skype chat history easily

SkyHistory is a chat history manager for Skype that enables you to store and manage conversations, filter chats, and search through saved conversations according to date.
SkyHistory will help you to define Skype contacts whose chat history should be stored. You can quickly and easily find any chat session or any instant message using search and filtering options, common Skype users groups, latest history sessions or Skype in-built calendar. You can also single out important messages and add them to your bookmarks or delete unnecessary messages and even chat sessions.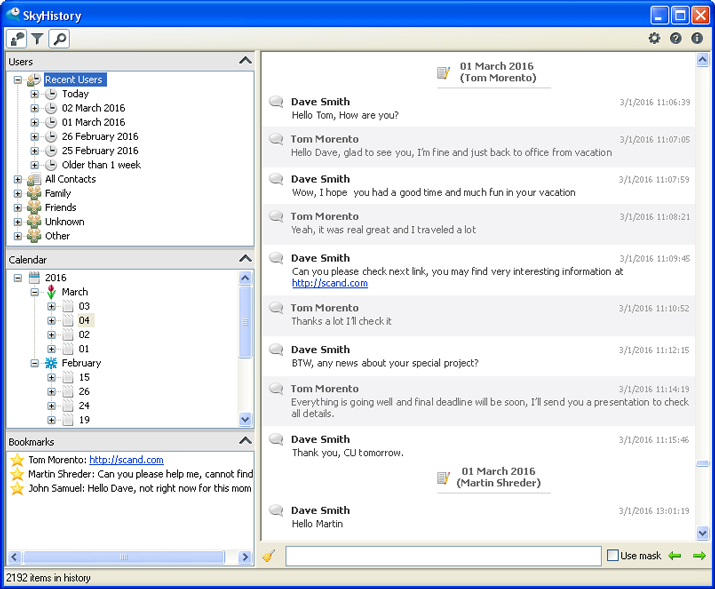 With SkyHistory you can easily organize a single database to store chat history for all Skype clients you use: at home, at work or on your laptop. You just need to select a proper location for your database with the history and settings on a portable flash-drive or USB-drive.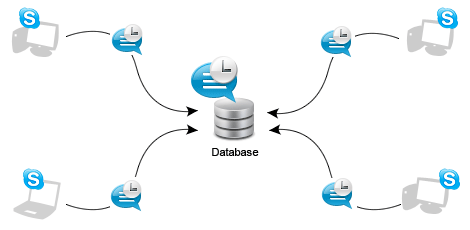 In fact, Skype tracks your chat history
BUT have you ever tried to do such basic things like those listed below?
Selecting users whose history you do not want to save, otherwise you will be just snowed under spam.
Looking through chats with a certain Skype user, or a group of users for a given period of time.
Finding a message by entering keywords or just applying a simple filter.
Selecting important messages and adding them to bookmarks.
SkyHistory offers you all these features based on intuitive interface to work with the chat history. These functions provide you with full control over the entire chat history, it's safety and privacy.
SkyHistory features
| Feature | Free | Full |
| --- | --- | --- |
| Search the conversation history from selected contact, common Skype user groups or by specific date | | |
| Categorization of all chats by date in the built-in calendar | | |
| Import 5-days Skype history automatically after the last message | | |
| Import all-time Skype history | | |
| Delete a message or the whole chat session from the database | | |
| Define Skype Contacts whose history should be tracked or ignored at any time | | |
| Select important messages and add them to bookmarks | | |
| Ability to change SkyHistory database location | | |
| Quick text lookup | | |
| Filtering messages by text fragments | | |
| Customization of the history layout including font family, font size and color for each message type and message element individually | | |
Requirements
Skype 6.13.0 or higher.
Windows 2000, XP, Vista, 7, 8, 10 (both platforms x64 and x86).
At least a 1GHz processor, 256 MB RAM.
20MB of free disk space at system drive.
Support
Support Email: skyhistory@scand.com
Scand is providing a full range of custom software development services. We develop software for dozens of clients world-wide, and we would be glad to do this for you. You are welcome to submit your project/product request using our contact form. We will contact you shortly to clarify all requirements.