Product Locator
This Magento extension displays product locations on Google Maps with the ability to filter them by product categories or cities.
Upon installing this extension a new menu item appears in the admin panel called Product Locator (System -> Configuration -> Catalog). All attributes of the product location (address, latitude, longitude etc.) have to be set in the admin panel. The address is optional when the latitude and longitude are specified and vice versa. There is ability to enable/disable Product Locator to display on the front-end and it means that you can fill out all info for product locations before users will be able to see and use it.
Magento extension installation page.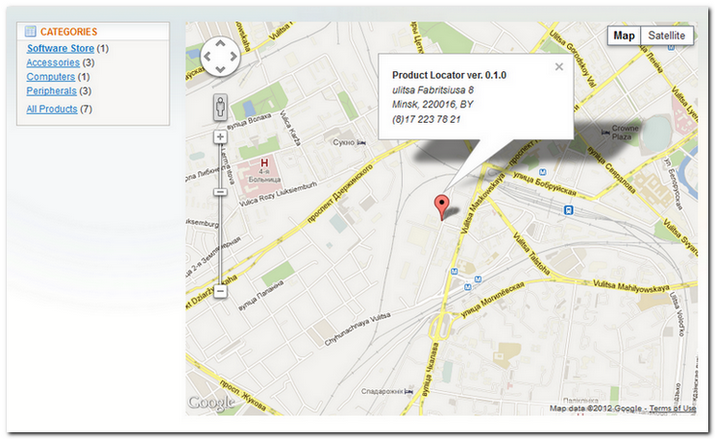 Magento Compatibility
Platform: Community.
Compatible with versions: 1.6.x.x, 1.7.x.x.
Changes in version 0.5.1
Fixed issue with creation of Configurable product.
Fixed JavaScript error when creating new product.
Fixed issue with rendering of State/Province drop-down list.
Scand is providing a full range of custom software development services. We develop software for dozens of clients world-wide, and we would be glad to do this for you. You are welcome to submit your project/product request using our contact form. We will contact you shortly to clarify all requirements.